Miriam Alaix
Designer
Founded by Miriam Alaix, a Swiss-Spanish architect and leatherworker, Woodskine brings a unique perspective and a new feminine vision to the traditional craft of luxury leatherwork.
Born in the cosmopolitan Spanish capital of Barcelona, she grew up in Geneva, Switzerland. From an early age she was immersed in a diverse cultural environment. Her keen interest in art, the environment, as well as values such as personal freedom, quickly became prominent in her life.
Combining sensitivity, creativity and an obsession with quality, Miriam is the active entrepreneur behind the Woodskine brand, which she co-manages with her partner in life and business, Laurent Ayer.
FROM GENEVA TO BARCELONA VIA PARIS
Always striving for excellence
Miriam has always been committed to quality over quantity in all areas. Her passion for high-end craftsmanship, design and sustainable development have guided her career choices. After obtaining a Bachelor's degree in Architecture in Geneva, she obtained a Master's degree in Sustainable Architecture in Barcelona, and left to study the art of leather goods at the Ateliers Grégoire in Paris.
Born out of a need for artistic expression, a deep respect for art and nature, the vision and essence of the Woodskine brand are entirely linked to Miriam's life and personal journey.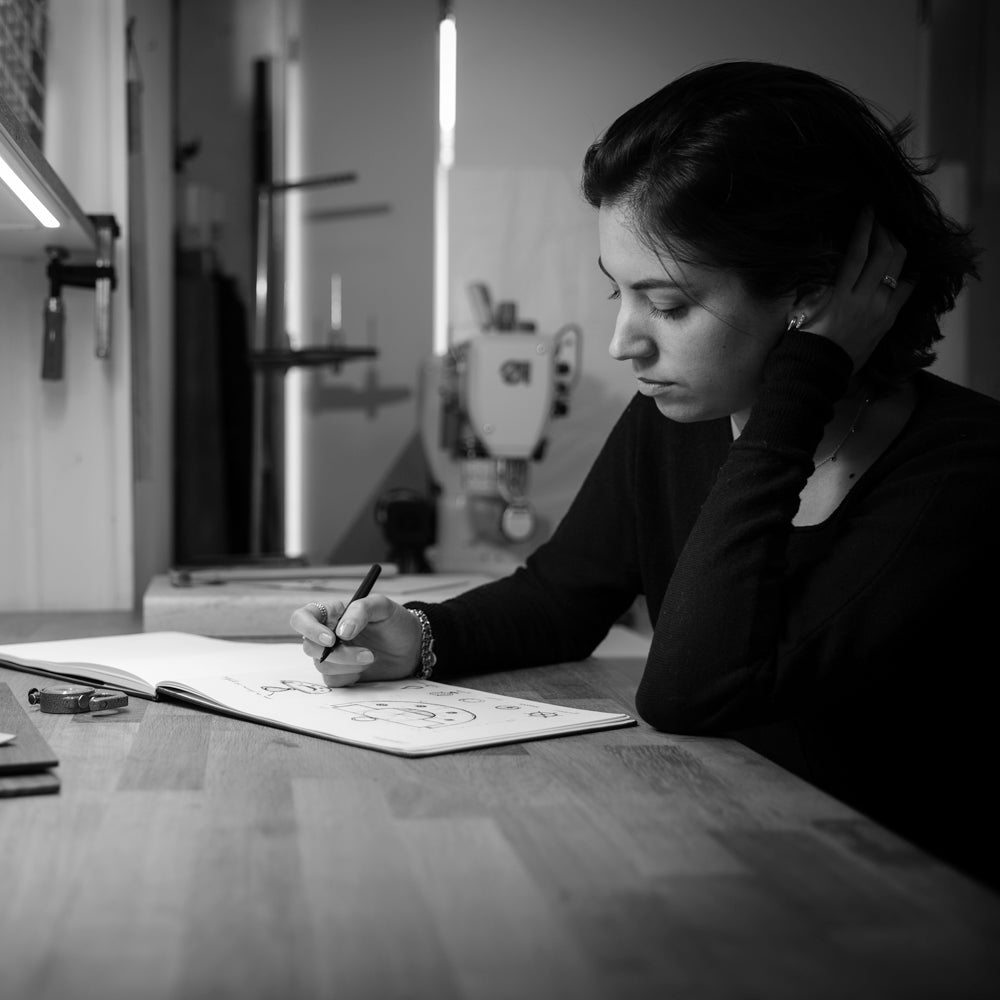 woodskine is also
The meeting of two cultures
The noble walnut wood, subtly incorporated into all the designs, represents Miriam's connection to the natural environment of Switzerland. The leather, meanwhile, celebrates the craftsmanship of the leatherworkers in the Spanish village of Ubrique, which has been renowned worldwide for its traditional expertise in luxury leather goods for more than 200 years.
Her attention to detail in the design, choice of materials, as well as the artisans with whom she collaborates, underscores her deliberate attention to each stage of creation. By producing on demand and scrupulously following the entire manufacturing process, Miriam guarantees an impeccable quality of finish. 
Innovating and designing tomorrow's styles through art, history and innovation, Miriam draws inspiration from pioneering women who have shaped our time, for each of her designs.